Jen Gentleman, Software Engineer, Community Manager e Windows Insider che lavora presso Microsoft, ha condiviso un suggerimento utile per eliminare i promemoria degli eventi passati in Outlook. La scoperta di Gentleman ha molte persone che si chiedono perché Microsoft non abbia abilitato questa impostazione di Outlook per impostazione predefinita.
I just discovered Outlook has an option to automatically dismiss reminders for past events and it's not enabled by default and all I can think of is how much time I could have saved if I'd only known this earlier pic.twitter.com/eseU1GMynU

— Jen Gentleman 🌺 (@JenMsft) 20 settembre 2019
Apparentemente, c'è un'opzione in Outlook che ti consente di ignorare automaticamente i promemoria per eventi passati. Ecco cosa devi fare per ignorare i promemoria di eventi passati in Outlook.
1. Apri l'app Outlook in Windows 10
2. Vai a File > Opzioni > Avanzate
3. Nel Promemoria sezione, seleziona la casella accanto a Elimina automaticamente i promemoria per eventi passati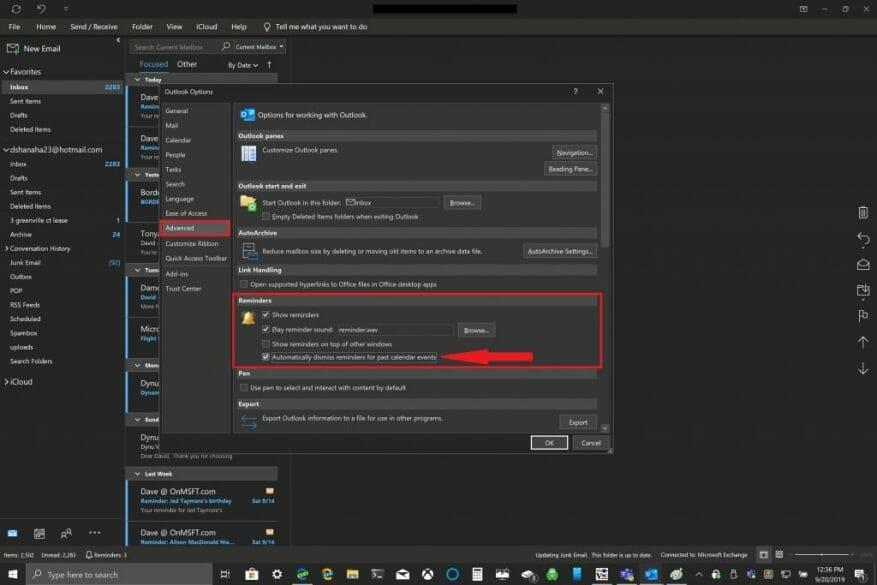 4. Fare clic OK
La scoperta di Gentleman ci aiuterà a sbarazzarci di quei fastidiosi ricordi del passato. Non c'è niente di più irritante che tornare al lavoro dalle ferie e aprire Outlook in Office 365 a dozzine di promemoria passati che ti sei perso mentre eri via. Dopo aver attivato questa impostazione in Outlook, i promemoria passati verranno automaticamente ignorati.